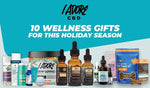 The holiday season is a great time for giving some gifts that bring more to the life of your loved ones.

No matter what wellness gifts you give this holiday season, there are plenty of options available so that no one feels left out! Remember: these gifts don't have to be just for the adults on your list. Children and animals alike can reap the benefits from adore oil. A little bit goes a long way with cannabis products, so anyone who receives a gift from this list is sure to feel truly special when they receive their goodies in the mail or in person!

 

CBD Oil Tinctures                          

CBD is one of the most popular wellness gifts and it's easy to understand why with its many health benefits . This oil can help fight anxiety , chronic pain, depression , and insomnia . With such a huge number of potential uses, almost anyone would benefit from this ancient remedy made by infusing cannabis plants with high concentrations of CBD without the psychoactive effects (the THC part) that THC provides. Studies show that CBD might also used as an anti-inflammatory treatment for many skin conditions, so it's a great gift to treat acne sufferers.

 

CBD Gummies

CBD gummies are another alternative to people looking to use adore oil or cannabis oil . These edibles contain the same amount of CBD as other options but have the advantage of tasting delicious and containing different flavors like fruit punch, berry blast, and lemon twists. They also come in tablet form if you prefer something quick-dissolving and ready for absorption in your system.

 

Wellness Gifts for Dogs and Cats

It's not just humans who can benefit from cannabis products; our pets can experience relief with extracts that we ingest or apply topically too . Treat your best friends with treats infused with CBD oil, made especially for their needs. You can also give them products to support arthritis or aging joints, as well as natural flea treatments to keep the critters in your life happy.

 

Wellness Gifts for Your Skin

Did you know that CBD oil is an effective remedy for a number of skin conditions? It has been used for treating eczema, psoriasis, and other types of dermatitis, but it can also work well for aging or damaged skin. 

It all comes down to how your body reacts to the cannabinoids found in this natural remedy. It may be the case that you are having some problems with your skin because of an allergic reaction, or it might be due to hormone issues. Whatever is causing the problem, CBD oil can work really well for helping to improve your skin.

 

Cannabis Hot Chocolate

If CBD oil tinctures aren't really your thing, how about some hot chocolate? Yes, cannabis hot chocolate is an actual thing and is an invigorating treat made with hot cocoa, cannabis butter, and other ingredients like vanilla extract. This drink might be sweet but it's not for the faint of heart!

 

Wellness Gifts That Give Back

It can't get more positive than wellness gifts that give back . Baker's Lab donates 10 percent of their revenue to the American Cancer Society . If you spend $100 on gifts or products, they will also donate $10 to the organization working hard every day to defeat cancer. With such high-quality items available at affordable prices , there are plenty of wellness gifts here for you or your loved ones this holiday season.

 

CBD Honey Sticks

Infused honey isn't just a delicious treat for your toast, it can also be used to soothe pain , calm nerves, and support sleep . With the added benefit of being vegan-friendly , you get all the health benefits that come with CBD oil without any of the effects that THC has.

 

Cannabis Lip Balm

Don't just give lip balms this holiday season; give cannabis balms ! This product is made with beeswax rather than petroleum jelly and contains both CBD oil and THC extract . It may not have quite the same effect as smoking or edibles but many people do enjoy using this type of product topically because it's more targeted towards specific needs like chapped lips.

 

Cannabis Bath Bombs

CBD bath bombs are popular wellness gifts and contain cannabis extract in a bath bomb base. These products don't make you high; they simply help relax your muscles and ease your stress levels. This product is made with all-natural ingredients and is free of parabens, phthalates, sulfates, and artificial fragrances to ensure the safest product for wellness gifts use. For the best quality Online Charlotte's Web CBD Oil, visit IAdoreCBD today.

 

Cannabis Card Wallet

The holidays can be stressful; give your loved ones this wallet that doubles as a weed card holder! Each item has three pockets: one large pocket to hold cards (or cash), two smaller pockets for medical marijuana cards , and an extra pocket on the back where you can conceal weed so it's ready whenever you need it! Whether getting this as a birthday gift or to give to a friend going through a rough patch, it's the perfect way to carry medical marijuana in style.

If you want to buy the best quality CBD oil, you can buy Online Charlotte's Web CBD Oil at IAdoreCBD.