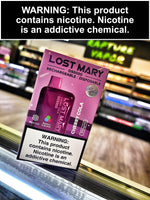 Bryce

's Top 5 Disposables
Look, since disposables have entered the vape scene they have been hard to get away from. They're easy, fast, and let's be honest, very tasty. Now with the influx of different brands and flavors to try it can be a tad overwhelming to try and choose when faced with brands like Elf Bar, Lost Mary, Hyde, Draco, Escobar just to name a few. If you're anything like me you like to explore new things and the idea of finding a new disposable flavor that you really enjoy is hard to fight. Now look, tastebuds are like fingerprints- everybody has different ones but if you're looking to branch out and take a shot on a new flavor, I hope my suggestions here will help make your nicotine breaks enjoyable.
1. Lost Mary: Mary Dream
It's hard to beat the smooth hit of the Lost Mary's for me. Whatever Elf Bar did with the design of these things makes the inhale a breath of a creamy tropical blast. Mary Dream is a blend of Pineapple, Mango, Coconut and Cream. These tropical fruits lighten the weight of a cream base which makes the vape feel lighter than a lot of the cream based juices I have ever tried. 
2. Sunset BC5000 by Elf Bar
Orange Juice. That's it. 
No but seriously, though it is advertised as a topical blend with notes of passionfruit and pineapple the flavor I get most from it is a tart and refreshing glass of orange juice. This is the most recent try on my silly little list so the fact that it is number two is shocking, even for me, and reminds me why I love trying the newest vapes we get in. For people who are looking for something fruity but not too sweet- this is the Elf Bar for you. 
3. Hyde IQ: Fresh Vanilla
I've been vaping for longer than I'd care to admit. So when I tell you this is one of the best vanilla vapes I have ever tried, trust that I mean it. Vanilla has been a staple and standard in the vaping industry and I have had A LOT of them but there is something about this disposable vape I keep coming back to. Which is fitting coming from one of the pioneers of the disposable vape world- Hyde. It is simple, sweet, and really does have a 'fresh' feeling to the inhale that I haven't experienced with another vanilla, and that includes traditional vape juice and salt nicotine e-liquid. If you're looking for a vape that completely coats your taste buds and sticks around with desert goodness- this is a must.
4. Orion: Banana Cake
Staying on the dessert train for a minute- the Banana Cake Orion Bar completely nails the flavor of a Banana Muffin. As anyone who has been vaping for a while will know- banana flavors are really hard to nail down. A lot of the time a banana flavoring can taste like an artificial and candied banana- which if you're into that, that's great! But for a dessert flavor I want my banana to be fresh and natural tasting and Orion absolutely nails it. Fashioned with a very unique design and boasting 7500 puffs, this is one of those disposables that seems to refuse to die and the flavor lasts right until it runs out. 
5. Lost Mary: Black Mint 
For the Mint Disposable lovers, like myself, who are looking for a bit of a twist on traditional mint vapes, the Black Mint by Lost Mary is sure to please. I have yet to find a more unique tasting nicotine vape on the market. Black Mint offers a fresh blackberry flavor that blends with an icy mint that is truly one of a kind. It satisfies my mint and menthol craving excellently while providing a subtle fruity taste that I keep coming back to. I have one of these in my car at all times. 
You can try all these flavors and more at Rapture Vapor in the Ohio Valley Mall located in St. Clairsville Ohio :)
Come see us!
-Bryce