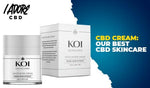 We love our IAdore CBD cream here at IAdoreCBD! Not only is it one of the most effective CBD products we offer, but it's also perfect for your skin, head to toe.
One question we often get asked is why there are different types of CBD creams. Well, the answer is simple: because everyone's skin is different and requires its own unique type of care.
For example, if you have oily skin, you'll need a light, oil-free moisturizer that won't clog your pores. On the other hand, if you have dry skin, you'll need a heavier cream with more moisture.
Our IAdore CBD cream is the perfect in-between. It's not too thin, and it's not too thick—it's just right! But the best part is, our CBD cream contains CBD with no THC, so you get all of the amazing medicinal benefits without that psychoactive "high."
To help you learn more about how different types of skin benefit from different types of creams, we put together this quickie guide to the world of skincare.
Different Types Of Skin Need Different Creams
Oily skin doesn't have time to clog your pores with heavy moisturizers. Light creams are absorbed quickly into oily skin for a matte finish but still provide nourishment.
Dry skin may feel tight and itchy, especially after washing. It requires a heavier cream with more moisture to help relieve these symptoms.
Sensitive skin is easily irritated by certain ingredients found in skincare products. Look for creams that are fragrance-free, paraben-free, and sulfate-free to avoid causing any irritation.
Normal skin doesn't need any specific type of cream, but most people still enjoy using a light moisturizer for a healthy glow.
What Are the Different Types of Creams?
There are a few different types of creams:
Moisturizing cream: This is the most common type of cream and is used to add moisture to the skin. It is often recommended for those with dry skin, as it can help seal in hydration.
Night cream: A night cream is typically heavier than a moisturizing cream and is meant to be applied while your skin is still damp from cleansing. It helps to seal in moisture and provide intense hydration overnight.
Anti-aging cream: An anti-aging cream contains ingredients that are meant to reduce the appearance of wrinkles and other signs of aging. It is usually used in combination with other anti-aging products to give the best results.
Cream with SPF: A cream with SPF offers protection from the sun in a moisturizing formula.
What is CBD Cream? What Goes into Our CBD Cream?
Cannabinoids, such as CBD and THC, are derived from hemp plants and have been found to offer many of the same benefits that hydration can provide your skin in addition to reducing inflammation and redness caused by a number of factors including dryness, irritation, etc. Due to their ability to work with your body's natural endocannabinoid system, cannabinoids can aid in relieving symptoms including redness and soreness due to its anti-inflammatory properties. In order for our skin care product line with essentially have all of the benefits, we have combined cannabinoids with other beneficial oils and extracts such as green tea extract which contains polyphenols known for their powerful antioxidant activity. Our IAdore CBD cream is a non-toxic, hypoallergenic product that can be used on your face and body to nourish your skin while helping reduce inflammation and redness.
Why IAdoreCBD Has The Best CBD Cream On The Market
We believe that our IAdore CBD cream is the best on the market because it contains high-quality ingredients and provides optimal nourishment for your skin. Plus, it's affordable and easy to use, making it the perfect choice for anyone looking for the best possible skincare solution.
So if you're looking for a IAdore CBD cream that will take your skin care to the next level, look no further than IAdoreCBD! Try it today and see the difference for yourself.
We hope this article was helpful in informing you about the different types of CBD cream and their benefits for various types of skin. At IAdoreCBD, we pride ourselves on providing the best CBD products possible, and our IAdore CBD cream is no exception. Try it today and see the difference for yourself!
If you have any questions or comments, please feel free to let us know in the comments section below. We always love hearing from our customers! Thanks for reading! :)