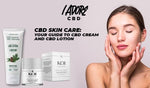 CBD cream and CBD lotion are becoming more popular, especially for people looking for a soothing effect or treatment on dry skin. At IAdoreCBD, we love our readers and customers, so we're always happy to share what we know. This tutorial will show you how to use CBD lotion on your body. We'll talk about the benefits of using body care products infused with the cannabidiol (CBD), some neat tips that I've picked up from my own experience with topical CBD products, and why nail care is also an option! 
 What is CBD Skin Care?
 CBD, also known as cannabidiol, is one of the most beneficial ingredients in cannabis. It can be used to treat a wide range of health issues including chronic pain, inflammation, anxiety and stress, acne, cancer cells, and many more.
 Adding CBD extract or oil to your skincare routine has big benefits for your skin too! We've listed the top 3 reasons you should consider using CBD lotion on your skin daily.
 Daily Moisturizer for every day CBD Skin Care
 There are many reasons why CBD cream is an excellent choice for daily moisturizing. With regular use, it may help reduce the appearance of fine lines and wrinkles, relieve dry or sunburnt skin, help fight acne with its anti-inflammatory properties, reduce general irritation from osteoarthritis pain, heal burns more quickly, calm itching associated with dermatitis, ease menstrual cramps. Using a topical cream to improve skin health helps treat issues on your skin externally rather than internally by providing quick relief where you need it most.
 How to Use the Daily Moisturizer
 The moisturizer has a creamy texture and isn't runny, more like body butter. Using your fingertips, apply small dots on desired areas of the body. Then massage it in for 15-20 seconds until the CBD is absorbed by the skin. When you're applying cream to your hands and feet, I recommend using some lotion afterward because it tends to leave them looking a little dry after absorption even if you have normal or oily skin—I find that my fingers look shiny and wrinkly without some sort of hand cream or oil afterward! In this case, you can simply use CBD water-based daily moisturizer for everyday skincare.
 Brightening Eye Cream for Targeted Skin
 CBD may reduce the appearance of puffiness. Try our IAdoreCBDCream to help with dark circles and dry skin around the eyes.
 Gentle Skin Care
 If you have a more sensitive skin type, CBD moisturizing lotion is gentle enough for everyday use. It's good for people who have difficulty using skincare products because their skin is too oily or too dry or that causes an allergic reaction in some areas. Using a topical cream also helps prevent breaking out from stretch marks on your body, making it great for pregnant women! Since many of these creams don't include THC (which could make you high), they're very popular.
 Brightening Eye Cream for Targeted Care
 If you're experiencing dark circles, dry skin, or puffiness around the eyes, IAdoreCBD Cream is gentle enough for everyday use. While some people find that they still need to apply a cream on top of this eye cream for an extended period, it's a great option to try if you have sensitive skin. We highly recommend trying our IAdoreCBD CBD Cream!
 Night Shift Cream for Superior Overnight CBD Skin Care
 Good night sweetheart! Get your beauty rest with IAdoreCBD Cream which will help improve your complexion and boost hydration levels before bedtime. When using topical CBD, it's best to wait 30 minutes after applying to shower—it helps reduce the risk of rashes from THC being absorbed into the skin.
 Body Butter for Luxurious Skin
 You're looking at your skin, and you can almost see the glow (or maybe that's just the CBD talking). If you want something really rich to moisturize dry skin, try our body butter. It feels like applying butter on my hands after putting them in water for too long! Use it with your favorite bath salts or whip up some homemade sugar scrub (just put granulated sugar in a jar and add 4-5 drops of essential oil )—it makes the perfect DIY gift!
 Where To Buy CBD Cream And CBD Lotion
You can find CBD lotion in many different forms online. IAdoreCBD offers the purest hemp-derived CBD products available on the market today. This makes CBD lotion perfect for people living with chronic pain, anxiety, high-stress levels, or other mood disorders.
 Using CBD topical cream has many benefits including improving skin health, targeting specific issues like eczema or psoriasis, and reducing inflammation associated with rheumatoid arthritis. Additionally, it can help you save money since you won't need to purchase other topical medications that might not even be as effective! Even if all these benefits weren't enough to convince you, CBD is also non-addictive and has no known side effects.