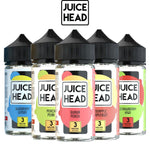 Looking for some dope vape juice to elevate your vaping game? Juice Head e-liquid is where it's at! They use only top-notch ingredients, so you know you're getting the best quality stuff. And their flavor game is on point - from Peach Pear to Blueberry Lemon, they've got some seriously tasty options. Plus, they've got different nicotine strengths to cater to your preference. And if you're into that smoother vape, they've got a Salt Nicotine line too. Don't sleep on Juice Head e-liquid - it's the real deal. So next time you're looking for some lit juice, give Juice Head a try and thank us later!
Whether you're new to vaping or a pro, Juice Head e-liquid is a must-try. Their unique flavor profiles will have your taste buds doing the happy dance, and their high-quality ingredients will give you peace of mind knowing you're vaping the good stuff. And let's be real, who doesn't want to be vaping some good stuff? So if you're ready to take your vaping game to the next level, grab a bottle of Juice Head e-liquid and get ready to be blown away by the flavor explosion. Trust us, you won't be disappointed!
Juice Head e-liquid is also perfect for those who love to mix and match flavors. With a wide variety of fruity and refreshing flavors, you can create your own unique vaping experience by blending different flavors together. It's like being your own personal vape mixologist!

And let's not forget about the stylish packaging. Each bottle of Juice Head e-liquid comes in a sleek and eye-catching design, making it the perfect addition to your collection of vaping gear. Not only will you be vaping in style, but you'll also have the satisfaction of knowing that you're vaping some of the best juice out there.

In conclusion, Juice Head e-liquid is a must-try for any vaper looking for a new and exciting flavor experience. With top-quality ingredients, unique flavor profiles, and stylish packaging, Juice Head is the real deal. So why settle for mediocre juice when you can have the best? Try Juice Head e-liquid today and take your vaping game to the next level. You won't regret it!