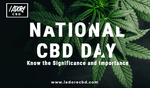 CBD has attracted a lot of attention from the general public, the media, government officials, and the medical community in recent years. This highly in-demand solutions that improve still has a long way to go before it is widely accepted by the general population. However, because of its rising popularity, it has been given its own holiday: National CBD Day. The 8th of August is National CBD Day. This is a special day to appreciate and celebrate the many benefits of CBD, the natural hemp substance that is causing such a sensation! National CBD Day is meant to be a day dedicated to a cannabinoid that seems to be improving the lives of many people. CBD supporters have the opportunity to promote awareness and educate people about this wonderful product on this day. If you are looking to buy the best quality CBD products, you can buy 1000mg CBD Oil Pain Cream from IAdoreCBD.
What is CBD?
Cannabidiol, or CBD, is a natural chemical extracted from the hemp plant. Cannabinoids are the collective name for these chemicals. Cannabidiol is non-psychotropic, thus even extremely large dosages won't make you high. CBD oils, CBD gummies, and CBD balms are some of the most popular ways to consume this versatile substance. There are even CBD cosmetics and CBD skin creams that are gaining popularity.
Why is CBD Popular?
CBD is easily absorbed by the human body, which is one of the reasons for its increased popularity. CBD is now available in a number of forms, making it much more available than most people actually believe. Since 2016, CBD has been accessible for purchase in the UK, as long as goods adhere to a kept of safety requirements.
Why National CBD Day Is Important?
National CBD Day is celebrated on August 8th to honour the natural hemp product that everyone is asking for! Learn about CBD and the latest laws that affect its use. CBD is believed to help with anxiety, depression, and post-traumatic stress disorder. It's also marketed as a hypnotic. CBD's popularity derives from the fact that it is said to be "nonpsychoactive," which means that users may benefit from the plant's medicinal benefits without getting high. Because few people are aware of CBD and many people didn't, declaring it a national holiday will instantly raise awareness and appreciation.
What Happens on CBD Day?
For the CBD business, National CBD Day provides a number of advantages. It provides a fantastic opportunity for CBD producers, merchants, and consumers to spread the word about this beneficial natural chemical. This objective is at the centre of everything that happens on this day.
On National CBD Day, you can plan to participate in the following activities:
Knowledge sharing on CBD
Most CBD supporters, including manufacturers and merchants, hope to share information and educate people about CBD and its potential health benefits on this special day. CBD has gained tremendous popularity during the last several years. Many people who are interested in its potential advantages have gone out of their way to learn everything they can about it.
However, a large section of the population still has many unanswered doubts about this topic in general. On CBD Day, CBD merchants seek different methods to interact with potential consumers. This includes instructional campaigns conducted both online and offline.
Awareness about CBD
On CBD Day, promoters of the natural chemical share information about it on the internet. This is a fantastic opportunity for them to promote awareness. They can encourage more individuals to join this fast-developing group and improve the CBD business by boosting CBD awareness.
Proponents may address a range of concerns impacting the CBD sector through media coverage and social media posts. One such issue is the CBD's ambiguous legal argument. It's worth mentioning that, despite the fact that CBD is allowed on a national level, it's still illegal in several states. Furthermore, the drug is still unofficially regulated by the FDA.
According to the not-so-official National Day Calendar, it's now a sort of official day on the calendar. Where did this day come from, though?
National CBD Day is founded in economic concerns, as are other "national days," explaining exactly how strong the CBD business has become in a short period, with the market expected to reach upwards of $15 billion by 2025.
"Consider Hallmark. It's because they wanted to sell more cards that we had on Mother's Day and Father's Day. Around the time of World War I, the Salvation Army established Donut Day. Every one of them has a story to share "Marlo Anderson, the inventor of the National Day Calendar, says. "To be honest, every national holiday is made up as well. It all hinges on whether or not they receive national recognition."
If you are also one of the CBD lovers then IAdore is happy to cater to you and being  CBD promoters,  they take advantage of their position by educating consumers on all things CBD-related and answering concerns about the powerful, holistic substance. Also, CBD has a bright future, and on National CBD Day, IAdore will be celebrating by giving you the opportunity to test their products for free or at a significant discount! IAdore wants you to try our Best CBD Oil Brands to Buy in 2021 for yourself and see how wonderful they are.
IAdore CBD invites us to learn more about this amazing natural supplement and to join them in celebrating #NationalCBDDay.