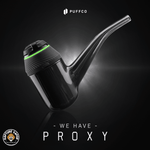 Learn About The Puffco Proxy
Introducing the Puffco Proxy Kit: Elevate Your Vaporizing Experience


At Rapture Vapor, we are thrilled to present the Puffco Proxy, a revolutionary portable vaporizer that combines cutting-edge technology with an elegant and ergonomic glass pipe. Designed to deliver unparalleled flavor and vapor, the Proxy Kit offers a premium experience for cannabis enthusiasts.

Elegant and Ergonomic Pipe Form Factor

The Proxy Kit stands out with its sophisticated and ergonomic glass pipe design. Crafted with precision and attention to detail, this elegant form factor provides a comfortable grip and enhances the overall aesthetic appeal of the vaporizer.

3D Chamber for Superior Flavor and Vapor

Equipped with a 3D Chamber, the Proxy ensures optimal heating from all sides. This innovative feature results in superior flavor extraction and dense, satisfying vapor production. Prepare to savor every nuance of your favorite strains with the Proxy's exceptional performance.

Modular Design for Customization and Compatibility

The Proxy embraces a modular design, allowing you to customize and enhance your vaping experience. It seamlessly integrates with an ecosystem of Puffco accessories, as well as third-party accessory glass. Explore a wide range of options to personalize your setup and enjoy vaping like never before.

Simple One-Button Interface with Haptic Feedback

Designed for user convenience, the Proxy features a straightforward one-button interface. With just a single press, you can power on/off the device and cycle through the pre-set heat settings. The built-in haptic feedback provides gentle vibrations to confirm your selection, ensuring ease of use even in low-light environments.

Four Pre-set Heat Settings and Boost Mode

The Proxy offers four pre-set heat settings, catering to your preferred vaping style and temperature requirements. Whether you enjoy light and flavorful hits or robust and dense clouds, there's a setting to suit your needs. Additionally, the Boost mode allows you to extend your session time or increase the temperature for an extra punch when desired.

Clean and Sustainable Cannabis Consumption

Puffco takes pride in crafting their vaporizers with the utmost attention to health and sustainability. The Proxy is made without the use of coils, glues, plastics, or fibers, ensuring a clean and pure consumption of cannabis. Experience the true essence of your chosen strains without any unwanted additives.

Fast Charging and Long Battery Life

The Proxy Kit is designed to keep up with your on-the-go lifestyle. With a fast charging capability, you can reach a full charge in just 1.5 hours. On average, the battery provides approximately 15 heating cycles before requiring a recharge. Stay powered up and ready to enjoy your favorite strains throughout the day.

Complete Portability with Carrying Case

For ultimate convenience, the Proxy Kit comes with a specially designed carrying case. This case not only provides secure storage for your Proxy and accessories but also includes a dual tool (5-pack), loading tool, and a USB-C cable. Enjoy the freedom to take your vaping experience with you wherever you go.

Elevate your vaporizing experience with the Puffco Proxy Kit. Explore the perfect fusion of elegance, functionality, and customization. Unlock the true potential of your favorite cannabis strains with the Proxy's advanced features and exceptional performance. Get yours today at Rapture Vapor and indulge in a vaping experience like no other.