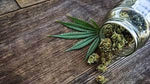 Why Should I Try CBD? Answers from the Latest CBD Research
Whether you're on the fence about trying CBD or you know someone who is, you'll want to see the latest CBD research! The year 2020 was a challenging one for most of us, but fortunately, cannabis researchers were able to publish some exciting new data.
Suffering from Anxiety, Depression, or Other Mental Disorders? CBD could help.
There are various treatment options for anxiety and depression, ranging from prescriptions to therapy. Some people turn to marijuana to relieve their symptoms, but there are a few problems with this.
Marijuana often feels calming in the short term, but the THC content is closely associated with long-term side effects. Anxious people may find that their symptoms worsen when using marijuana, and it may exacerbate depression as well. On a similar note, many prescription antidepressants and anti-anxiety medications carry the risk of worsening the same symptoms that they're supposed to alleviate.
If you want to avoid these risks, try managing your symptoms with the help of CBD! 2020 research suggests that CBD can even help treat psychosis. Luckily, CBD products contain less than 0.3% THC, which is not nearly enough to cause any of these unwanted side effects.
CBD is not associated with worsening mental symptoms. It is instead strongly associated with calming effects, and studies show that it does not lead to memory problems like marijuana does. Most people report very minimal side effects, if any.
Cannabis Can Help with High Blood Pressure, Arthritis, Pain, and Other Symptoms of Aging
Many people use cannabis to manage the aches and pains associated with aging and chronic health conditions. For years, animal trials have showed that CBD has a strong potential for pain relieving effects. Published in 2020, this comprehensive review discusses all the current evidence for CBD as a chronic pain treatment, offering a balanced perspective of the benefits and potential risks.
 In early 2021, a study was published showing that cannabis can help reduce blood pressure in older people. More of the medical community is now embracing the idea of CBD for arthritis symptoms. If you have any of these chronic issues or you know and love someone who does, these studies may provide hope of relief.
Try CBD For Yourself!
More long-term studies still need to be done, but scientists and medical professionals are constantly working to learn more about CBD and cannabis. Several current CBD trials are studying the effects of CBD on autism, endometriosis, cancer, arthritis, panic attacks, and COVID-related symptoms. 
You can find a wide range of CBD products at I Adore CBD. Visit our store in St. Clairsville, OH or shop our online store. We're here to provide high-quality, trustworthy CBD products to help you manage your health – both mental and physical. If you need advice or recommendations, we'd be happy to help!