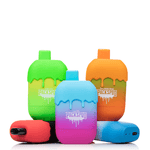 Introducing the Packwoods Packpods Nicotine Disposable Vapes, the ultimate choice for convenient and flavorful vaping experiences. With an impressive range of tantalizing flavors and cutting-edge features, these disposable vapes are designed to satisfy your cravings wherever you go. Let's dive into the details and explore the flavor options available to you:

1. Banana Flambe (Arctic Banana): Indulge in the luscious fusion of ripe bananas with a refreshingly cool twist. This Arctic Banana flavor will transport your taste buds to a tropical paradise.

2. Black Cherry Gelato (Cherry Pop): Experience the irresistible allure of juicy black cherries infused with the creamy sweetness of gelato. Cherry Pop delivers a burst of fruity goodness with every puff.

3. Blue Slurpie (Miami Razz): Get ready for a nostalgic trip down memory lane with Blue Slurpie. This flavor captures the essence of your favorite icy blue raspberry slushie, perfect for those seeking a tangy and invigorating vape.

4. Gelato Freeze (Cool Mint): Craving a chilling sensation? Look no further than Gelato Freeze. Immerse yourself in the invigorating coolness of mint combined with the creamy richness of gelato, creating a harmonious blend that will leave you refreshed.

5. Guava Bubblegum (Sweet Guava): Transport yourself to a tropical paradise with the tantalizing blend of sweet guava and nostalgic bubblegum. Sweet Guava will satisfy your sweet tooth and provide a burst of fruity delight.

6. Jelly Dulce (Grape): Unleash your inner grape lover with Jelly Dulce. This flavor captures the essence of juicy, ripe grapes, creating a delightful vape experience that is both sweet and refreshing.

7. Marshmallow Fluff (Sweet Cloud): Prepare to be whisked away to a land of fluffy goodness. Marshmallow Fluff combines the sugary delight of marshmallows with a heavenly aroma, providing a vaping experience that feels like floating on a sweet cloud.

8. Miami Haze (Watermelon Freeze): Embrace the vibrant energy of Miami with Miami Haze. Enjoy the succulent and juicy taste of ripe watermelons, blended with a hint of refreshing coolness to keep you revitalized.

9. Orange Creamsicle (Orange Burst): Recreate the classic taste of a summertime favorite with Orange Creamsicle. This flavor combines the tangy zest of oranges with the creamy indulgence of vanilla ice cream, delivering a burst of citrusy goodness.

10. Rainbow Sorbet (Berry Blasted Mango): Immerse yourself in a rainbow of flavors with Rainbow Sorbet. This delightful blend fuses together a medley of berries and succulent mangoes, resulting in a harmonious explosion of fruity satisfaction.

11. Sour Gushers (Jungle Juice): Get ready for a flavor-packed adventure with Sour Gushers. This bold blend combines a variety of tropical fruits with a tangy twist, delivering a delightful burst of sour sweetness.

12. Unicorn Sherbert (Kiwi Strawberry): Embark on a whimsical journey with Unicorn Sherbert. This enchanting flavor combines the juicy essence of ripe strawberries with the exotic tang of kiwis, creating a magical vaping experience.


Now, let's take a closer look at the remarkable features of the Packwoods Packspod 5000 Disposable:

- Prefilled Capacity: Each Packspod is filled with a generous 12mL of premium e-liquid, ensuring long-lasting enjoyment without the need for constant refills.

- Battery Capacity: With a powerful 1400mAh battery, the Packspod 5000 Disposable is designed to provide a reliable and extended vaping experience.

- Max Puffs: Indulge in up to 5000 flavorful puffs per device
Available at Rapture Vapor, the Packwood Packspods are your go-to choice for high-quality nicotine disposable vapes. Rapture Vapor is renowned for its commitment to providing customers with top-of-the-line vaping products, ensuring a satisfying and enjoyable experience every time.

With the Packwood Packspod 5000 Disposable, you can expect seamless operation through its draw-activated mechanism. Simply inhale, and the device will activate, delivering smooth and flavorful vapor without any complicated buttons or settings.

The Packspods utilize a cutting-edge heating element with a mesh coil, ensuring rapid and consistent vaporization of the e-liquid, resulting in rich and full-bodied flavor profiles. The mesh coil technology also enhances the longevity of the device, allowing you to savor every last puff.

For added convenience, the Packspod 5000 features a Type-C charging port, enabling quick and efficient charging to keep you vaping without unnecessary interruptions. With its long-lasting battery and ample e-liquid capacity, the Packspod 5000 is the ideal choice for on-the-go vaping enthusiasts.

Indulge in the pleasure of high-quality nicotine salts with the Packwood Packspods, which boast a nicotine strength of 5% (50mg). This provides a satisfying hit and a smooth nicotine experience, catering to both seasoned vapers and those looking to transition from traditional cigarettes.

Whether you're a fan of fruity, creamy, or refreshing flavors, the Packwood Packspods offer an array of enticing options to suit your taste preferences. From the tropical allure of Banana Flambe and Guava Bubblegum to the cool minty freshness of Gelato Freeze, each flavor is carefully crafted to deliver an unforgettable vaping experience.

Discover the Packwood Packspod 5000 Disposable at Rapture Vapor and elevate your vaping journey to new heights. With its impressive features, wide flavor selection, and the assurance of quality, the Packspod 5000 is the ultimate disposable vape device for discerning vapers. Treat yourself to the convenience and flavor-packed enjoyment of Packswoods Packspod 5000 Disposable and embrace a truly satisfying vaping experience.