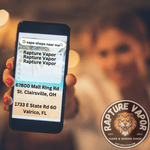 Are you a vaper who's constantly on the hunt for the best vape shops near you? Look no further than Rapture Vapor, Ohio Valley's trusted vape shop since 2014. Whether you're a beginner or an advanced vaper, we have everything you need to satisfy your vaping needs.

At Rapture Vapor, we're proud to be the go-to vape shop for vapers in the Ohio Valley area. We take pride in providing high-quality products and personalized service to our customers. Our staff is knowledgeable, friendly, and always ready to help you find the perfect e-juice, mod, or accessory to enhance your vaping experience.

Conveniently located in Ohio Valley, Rapture Vapor is your nearest vape shop. You no longer need to search for "vape shop near me" because we're just a short drive away. Our store is fully stocked with a wide variety of e-juices, mods, tanks, coils, and accessories from top brands in the industry. Plus, we offer competitive pricing to ensure that you get the best value for your money.


We understand that vaping is more than just a hobby. It's a lifestyle that requires quality products and personalized attention. That's why we go above and beyond to provide our customers with the best vaping experience possible. From our extensive selection of e-juices to our helpful staff, we're committed to helping you find the perfect products for your vaping needs.

If you're new to vaping, we're here to help you get started. Our staff can guide you through the basics of vaping and help you find the right e-juice, mod, or accessory to get you started. We'll walk you through the different types of mods, tanks, and coils available, and help you choose the right nicotine strength and flavor profile to suit your preferences.

For experienced vapers, we have a wide range of high-end products and advanced accessories to take your vaping experience to the next level. Whether you're looking for a new mod or a rebuildable atomizer, we have everything you need to customize your vaping setup and create the perfect vape.

But our commitment to our customers doesn't end with our products. We also strive to create a welcoming and inclusive environment where vapers can feel comfortable and confident in their choices. Our staff is always available to provide personalized recommendations and advice, whether you need help finding the right flavor or selecting a new device.

At Rapture Vapor, we take pride in being Ohio Valley's trusted vape shop. Our loyal customers can attest to the quality of our products and the level of service we provide. We understand that vaping is not just a hobby, but a lifestyle, and we're honored to be a part of our customers' journey.

So, the next time you're searching for "vape shops near me" or "nearest vape shop," remember that Rapture Vapor is right here, waiting to serve you. Come visit us today and see why we're Ohio Valley's trusted vape shop since 2014.