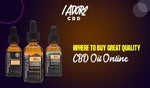 Since CBD oil became legal in all 50 states, there are more and more new websites popping up every day offering different types of CBD products. However, not all CBD oils are created equal hence there is a growing need for people to educate themselves on what they are buying online before committing to buy any of the Best Stress Relief CBD Products Online being offered by these online retailers.
While some sites claim that their products come from organic hemp plants, others can't even tell you where their hemp is sourced from because it may be coming from China which means the product may contain toxic chemicals that have been used to preserve or process foods. Some manufacturers use dangerous solvents that are also used in gas stations during cleaning procedures. These solvents known as Butane, Hexane and others can potentially result in health issues.
Another issue with some CBD products is the fact that they may contain toxic or even illegal ingredients, including chemicals like propylene glycol, polyethylene glycol and other added synthetic ingredients which are petroleum based thinning agents used to make e-liquid for vaping pens. And it's not just thinning agents that are harmful… Some companies are mixing their CBD oil with alcohol or adding sugar which will do more harm than good to your body. These additives are usually what give CBD products a bad aftertaste too.
These are just some of many reasons why you should always research before buying any type of CBD products online. Just because something is being sold on Amazon does not mean it's safe!
When looking for a CBD oil, you want to keep in mind that not all CBD oils are created equal! There are many different ways of extracting the oil and some processes can strip out the beneficial compounds found in cannabis such as terpenes and cannabinoids. While others use dangerous chemicals or solvents during their extraction process which can leave toxic residues behind which you will ingest when consuming those products.
If your online search results direct you to sites selling Hemp seed oil for skin conditions, steer clear of them! Why? It is because these hemp seed oils do not contain CBD and therefore won't help treat your condition. Think about it: You wouldn't rub cayenne pepper into your skin just because it's "natural" now would you?
You want to look for CBD oil that is extracted from the stalks and stems of hemp and not seeds. Hemp seed oil also known as hemp oil contains healthy fats but it has no CBD! If you see an online retailer selling hemp seed oil as a health remedy, they are misinformed or lying to you. 
Similarly, if you're looking for therapeutic dosages of CBD (anywhere from 2-20mg) , make sure your potential supplier isn't just trying to sell you "CBD-rich hemp oil" which doesn't contain significant levels of cannabidiol. You want something lab tested to ensure that there's actual CBD content in the product and not just an infused hemp seed oil with very small amounts of CBD.
If you want to ensure that the CBD oil you're buying is safe and lab tested, then it's best that you buy from a reputable cannabis company such as IAdoreCBD , which uses proprietary nanotechnology to lower the particle size of CBD molecules allowing for higher bioavailability due to better absorption. All their products come with lab reports and potency test results – something you usually won't find on other sites selling cheap CBD oils online!
There are so many new companies selling various forms of cannabis and hemp derived products and it's hard to keep track of all these suppliers and what they might be offering without doing extensive research into each one individually. The good news is that now there are even more ways to figure out which suppliers you can trust and feel confident doing business with.
The Hemp Business Journal just released a report that shows the total U.S. CBD industry at $365 million in 2016 and predicts it will be a billion dollar market by 2020! So the question is: What are you waiting for? If you have been using cannabis to relieve health problems, consider trying CBD oil from a reputable supplier today.
Check out IAdoreCBD , one of the leading CBD company offering only the Best CBD Topical For Pain Of 2021 on the market! Their high potency hemp extracts contain no fillers, preservatives or additives of any kind - just pure 100% natural CBD that meets their 99.7% purity standards.
You can also try their soothing cream, muscle and joint relief roll-on, which has residual effects to help with conditions such as arthritis and nerve pain. You wouldn't want any nasty chemicals or solvents like propylene glycol (used in e-cigarette products) touching your skin now would you?
IAdoreCBD CBD oil extract capsules are available in 25mg , 50mg and 100mg strengths. The best part is that every batch lab tested so you know exactly what you're getting! If you find that even their strongest extract isn't potent enough to relieve your condition, you can take advantage of their best for last for even more savings on the larger bottle.