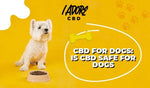 Cannabidiol, otherwise known as CBD is a natural treatment option for dogs. This non-psychoactive compound found in cannabis has many different therapeutic properties and has been shown to ease the debilitating symptoms associated with some medical conditions, such as:
Itching & Skin Inflammation

Cancer Symptoms

Seizures

Joint Pain

Digestive Issues

Behavior Problems
However, there are additional benefits associated with using CBD Oil For Dogs that far exceed what we know about its applications for humans. For example:
Arthritis Pain Relief for Dogs
One of the most common reasons that dog owners look into this treatment option is because their pet suffers from arthritis pain and inflammation. We've all seen our dog get up slowly after laying down for a long period of time. Many times, this can be attributed to arthritis pain in the hips and elbows.
Similar to humans, dogs can suffer from anxiety disorders like post-traumatic stress disorder (PTSD), separation anxiety, phobias, panic attacks etc.. These disorders are usually treated with pharmaceuticals that carry heavy side effects; or pet owners opt for natural remedies that have limited results. However, current research suggests that CBD oil appears to ease anxious behaviors in dogs effectively without the negative side effects that traditional drugs have on our pets.
Help Treat Cancer Symptoms in Dogs
Many types of cancer are aggressive and cause debilitating symptoms including pain & loss of appetite. As mentioned earlier, there are several studies suggesting that CBD oil can ease the pain associated with cancer treatment in humans. This is also true for dogs dealing with serious illness because of their potential to reduce inflammatory markers, decrease pain response, and support healthy cell growth.
These are all good benefits to know about when considering using CBD oil for your dog's health issues. However, there are some additional effects that aren't talked about as often when it comes to this natural medicine. One example is its ability to aid in recovery from drug addiction by easing withdrawal symptoms through reducing cravings & preventing relapse behaviors. We all know someone who has struggled or struggles with substance abuse, so if you have a family member or friend who has struggled staying sober, CBD oil for dogs can help.
HOW TO ACQUIRE CBD OIL FOR YOUR DOGS
There are a few options available when it comes to acquiring CBD oil for your dog. The simplest way is to buy hemp oil online from a reputable company that manufactures their own products. This option is the least expensive, but also carries the most risk because there's no way of knowing whether or not they have been exposed to pesticides and chemicals in the soil where their hemp was grown.
CBD Oil For Dogs - Is It Safe? By putting all natural ingredients into a bottle, you can increase its overall effectiveness because these products are free from synthetic additives, colors & other toxins that come with pre-made medications. However, this method can be difficult for some pet owners because they usually have no idea how much to give their dogs & there's nobody available to help them through the process.
Lastly, your other option is to find a veterinarian who knows about CBD oil and can recommend it for what you need. This may cost money initially, but will be well worth it if your dog recovers quickly or has an adverse reaction. Since this option doesn't come with any side effects like the other two, this is often the preferred method for most people concerned with providing their pet with the best care possible.
HOW TO RECOGNIZE A QUALITY CBD OIL PRODUCT FOR DOGS
Now that we've discussed using CBD oil for dogs, let's look at one of the largest problems facing people today who are looking to purchase CBD products. A quick Google search will give you hundreds of websites selling a variety of CBD oil for dogs. However, the majority of these sites aren't very trustworthy and sell low quality products that don't work because they're not manufactured in a lab.
Understanding What Makes a High Quality Product presents several problems for consumers who want to give their dog something that actually works because there's no way of knowing whether or not the product they bought contains dangerous chemicals without contacting the company directly & asking them. In fact, many companies will tell you what's NOT in their products instead of what is - this should be your first sign someone isn't being completely honest with you!
To ensure you get the best CBD oil for your dog, follow these three guidelines:
The product should contain full spectrum CBD in either oils or edibles (or both) - the bottle's label should clearly state this. This is because when you use a whole plant extract vs. an isolate, it increases the product's bioavailability & effectiveness by delivering additional cannabinoids to your pet when they need them most. These are all naturally occurring in hemp plants and include CBC, CBG and other components that work together to create what scientists call the "entourage effect."
Look for third party lab reports to confirm their products have been tested & verified as free of contaminants like heavy metals & dangerous chemicals. Full spectrum cannabinoid profiles can vary significantly depending on how the hemp was grown and where it was grown, so it's extremely important to research the company before you make a purchase.
Make sure they offer a 100% money back guarantee & that you never have to go through the hassle of giving them your dog's information in order to return an unwanted product for a refund. Remember: If the product doesn't work, you shouldn't be out any money!
We truly want to help as many pet owners as possible who are looking for an alternative solution to expensive pharmaceuticals with harmful chemicals that often produce more problems than they solve over time. If you're tired of seeing your dog in pain and think this might be something you want to try, we hope your next step is taking the first step by picking up the phone & calling us today!
At IAdoreCBD, we are offering the Best CBD Oil Brands to Buy in 2021. So, if you want to buy delta 8 gummies online, visit our online store today.